Taste of Tamborine - Brisbane Departure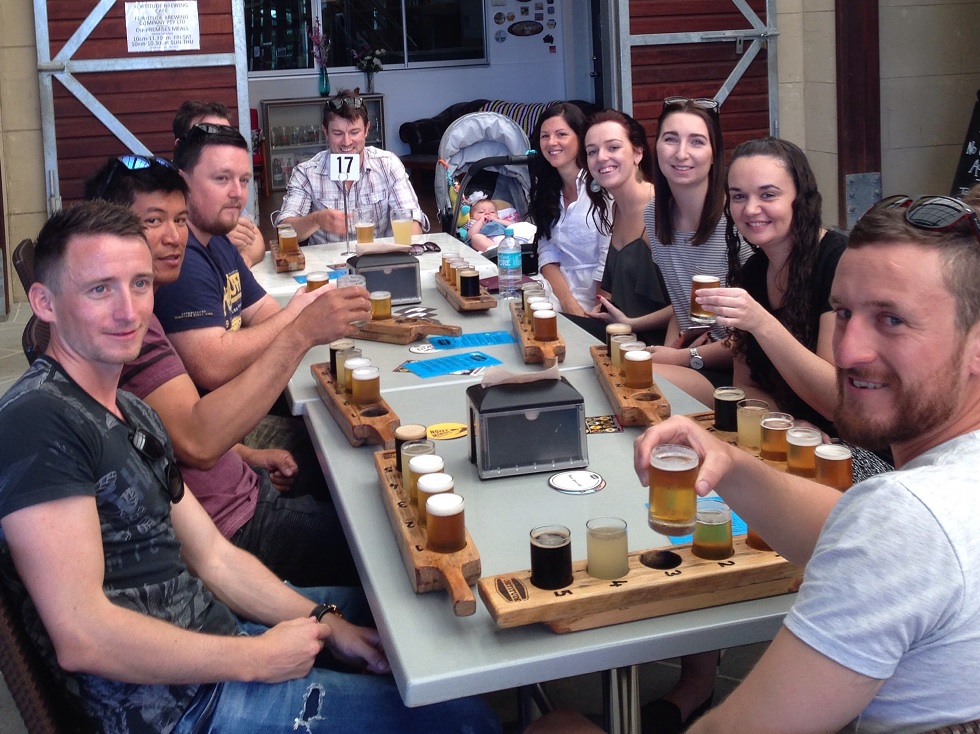 After your pick up, we will begin the day by visiting Newstead Brewing Co where you're encouraged to sample all the core range of beers on tap - plus maybe a few seasonal or one-off beers currently available. Your guides will take you through beer ingredients, including some witty, historical commentary, and enlist a brilliant Newstead team member to walk you through the brewery and explain the complete brewing process.
Breaking up the journey down the M1 we stop in at Beenleigh Rum Distillery in Beenleigh. Here you will be treated to a tour of the working artisan rum distillery and sample the products when finished. We have plenty of room in our van for you to bring a couple bottles home with you. CLOSED-TOE SHOES REQUIRED FOR THIS PORTION OF THE TOUR. Please note the drive between Newstead and Beenleigh is roughly 40 minutes.
Another 45 minute drive gets us to the top of Mount Tamborine. Take in the stunning scenery along the way, chat with your fellow beer appreciators, swap first-beer stories, or maybe play some trivia and win prizes!
Upon arrival at Fortitude Brewing we will see the working brewery and all the equipment involved in producing some delicious beer. We will grab paddles for everyone to taste Fortitude's core range of beers and enjoy them over pizzas.
After lunch we'll give you some free time to explore Gallery Walk on your own (30-45 minutes depending on time), where you can pick up souvenirs, taste fudge or even mix up the day by sampling some local wines (at your own cost) before we load up the van to continue down the hill (roughly 30 minutes) to our final stop.
Be aware that the road down is a bit windy, so if you suffer from motion or car sickness, please ensure you have something to combat it or sit near the front of the van.
A short drive down from Fortitude Brewing is the discreet entrance to one of the many incredible breweries on Mount Tamborine - but you wouldn't have any idea it's here. This is because we have exclusive access to visit Beard & Brau at the source! Owner/brewer Chris "Fish" Herring makes small batch brews on his farm in Tamborine and has just celebrated his tenth anniversary in Queensland. Have a chance to talk all things beer and try some of the best around!
Unfortunately all good things must come to an end, so once we leave here we will head back to Brisbane - roughly a 35 minute drive. We are happy to drop you where you were picked up, or at one of our partner pubs where you can carry on with a few more craft beers.
Don't forget to bring a photo ID with you. All your friends may know you're of-age, but it's only the first time we've met, and we'd hate for you to get turned away from any of the breweries by looking too young to appreciate good brews. Also. please be aware that this tour does involve a significant amount of drive time (roughly 40 minutes between each venue) which may be affected by traffic conditions on the day. We have lots of stories to share, though, so you won't even notice how quickly the time passes!
Please note that brewers don't always run on a set schedule, so we will try and catch the brewers in action but that can't always be guaranteed; keep an open mind on the day because no matter what or who we see, the beers are always epic. Sometimes the itineraries will change at a whim; this may be because of traffic, a last-minute decision from the brewery or any number of things, so we ask for your patience and flexibility.