Taste of Tamborine - Gold Coast Departure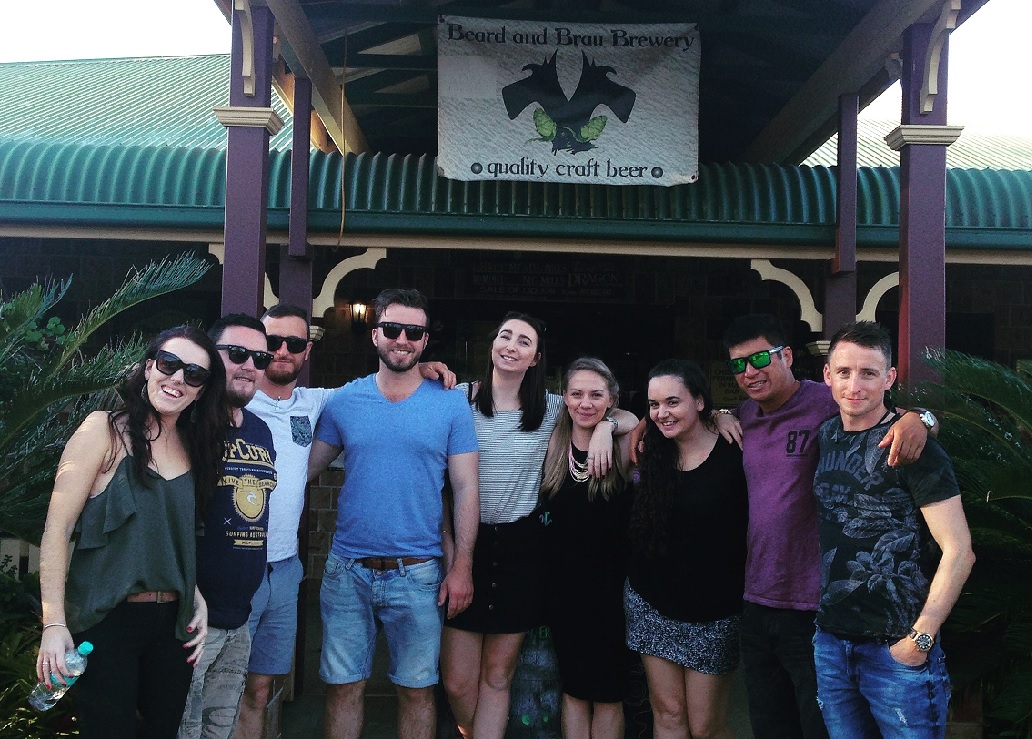 Book Now
We start the day with a visit to one of the Coast's best bars, Sandbar, where we will settle in with a tasting paddle of some local and domestic beers to get the ball rolling. It's here, across from the crashing waves, we will discuss how to taste beer as well as the main ingredients that make up this tasty tipple.
The crew at Black Hops Brewing have built an intimate venue with a tasting room perfectly structured to sample their core range (and special cellar-door releases) of delicious beers. Speak to the brewers, learn about the brewing process and see how everything functions by getting up close and personal.
Our guide here, Michael "Govs" McGovern shares the Black Hops story as he talks about the beers you're tasting and explaining the brewing process. We may even be lucky enough to catch them while they're brewing and really see them in action!
From Black Hops we settle in for a leisurely drive (about 50 minutes) up Mount Tamborine. Take in the scenery, chat with your fellow beer lovers and share stories during the trip, or maybe play some trivia and win prizes!
Upon arrival at Fortitude Brewing we will see the working brewery and all the equipment involved in producing some delicious beer. We warm your palate up with a tasting paddle of their core beers to accompany your pre-ordered pizza.
Once your belly has a a lining on it, we'll give you some free time to explore the Gallery Walk on your own (30-45 minutes depending on time), where you can pick up souvenirs, taste fudge or even mix up the day by sampling some local wines (at your own cost) before heading down the hill to our final stop of the day.
Be aware that the road down is a bit windy, so if you suffer from motion or car sickness, please ensure you have something to combat it or sit near the front of the van.
At the bottom of the hill we'll pull into the Bearded Dragon Hotel, featuring brews by Beard & Brau, where you have the chance to sample their core range of beers – plus maybe a few seasonals if you're lucky. Though the beer isn't brewed on site, we will discuss the brewing process and ingredients in beer so you know what you're drinking.
If there's extra time, you can pick up a bag of alpaca food and feed the farm's alpacas - watch out, they spit! - otherwise we'll finish our chat and bring the tour to a close. Unfortunately for all of us we can't stay longer, but it's time to head back to the coast and count the cane toads on the way.
Once back in the city, we will drop you off at your original pick-up location or one of our partner pubs, where you can keep drinking delicious beer to your hearts' content.
Don't forget to bring a photo ID with you. All your friends may know you're of-age, but it's only the first time we've met, and we'd hate for you to get turned away from any of the breweries by looking too young to appreciate good brews.
Please note that we are visiting working breweries and it's suggested you wear close-toed shoes so you don't miss out on any of the fun. Also, since they don't always run on a set schedule, we will try and catch the brewers in action but that can't always be guaranteed; keep an open mind on the day because no matter what or who we see, the beers are always epic. Sometimes the itineraries will change at a whim; this may be because of traffic, a last-minute decision from the brewery or any number of things, so we ask for your patience and flexibility.