Coldie on the Goldie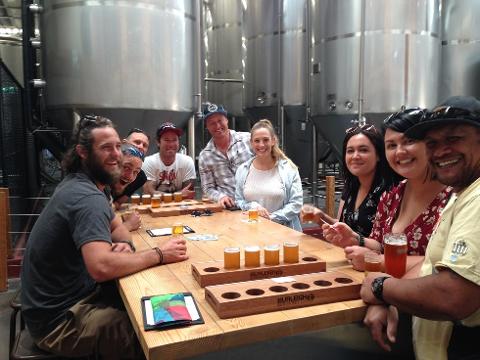 Start with some lunch, dive into the history and ingredients of beer and revel in one of Gold Coast's best views of the surf and sand. Duck into residential neighbourhoods and be surprised and delighted with what you find, as Black Hops constantly brew new, unique styles of beer; have the chance to see an original and iconic Gold Coast brewery in action at Burleigh Brewing, then see what all the fuss is about at Balter (and maybe spot a surfer or two), where beach meets beer.
Throughout the day we keep you well-fed and full of delicious beer, with plenty of samples accompanied by tasting notes and witty commentary. The brewers are happy to show you the ropes, help you understand the brewing process and answer any questions you may have. Whether it's a hot day and you need a cool drink or it's a cool day and you want to warm up, our Coldie on the Goldie tour is perfect for all occasions.
Don't forget to bring a photo ID with you. All your friends may know you're of-age, but it's only the first time we've met, and we'd hate for you to get turned away from any of the breweries by looking too young to appreciate good brews.
Please note that we are visiting working breweries and it's suggested you wear closed-toe shoes so you don't miss out on any of the fun. Also, since they don't always run on a set schedule, we will try and catch the brewers in action but that can't always be guaranteed; keep an open mind on the day because no matter what or who we see, the beers are always epic. Sometimes the itineraries will change at a whim; this may be because of traffic, a last-minute decision from the brewery or any number of things, so we ask for your patience and flexibility.